Threshold Analyser is a
new analytical approach to identifying optimum threshold parameters
when tuning a sanction screening system.
Identify optimum threshold parameters
Our solution will model a decrease in the number of false positives produced by a system without reducing accuracy, thus ensuring maximum resource efficiency at specified threshold levels.
An interactive threshold level selection toggle can be moved in Analyser Online to view the impact on efficiency and effectiveness levels with each selected threshold change.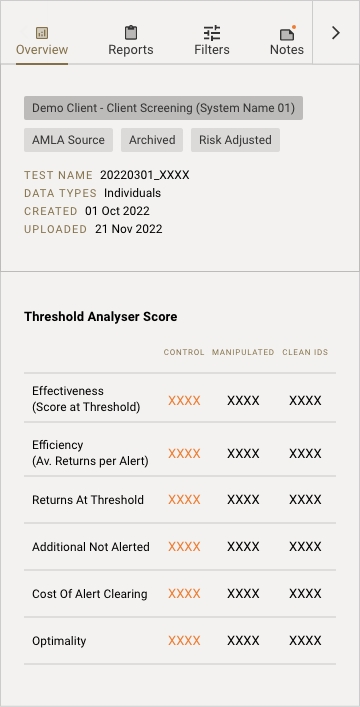 Applying a risk-based optimisation approach will lead to an accepted balance between maximum sanction alert hit rates whilst ensuring maximum resource efficiency at specified threshold levels. From the returned information from the tested system, AML Analytics are able to link the test record back to the name that was matched and the threshold score at which it was matched.
We then determine match rates to control, manipulated and Clean ID test records at each threshold level to analyse the impact on scores if system matching thresholds are decreased or increased.
The relationship between the number of returns and alerts missed per threshold value is used to determine the optimum threshold value. It can be seen that the number of returns will decrease as the threshold is increased, and then conversely, the number of alerts missed will increase as the threshold is increased.
From these metrics, calculate your optimum threshold level whilst taking into account specific risk appetite and aim to improve efficiency scores without adding any additional sanctions risk.
The Optimality Calculator can be used to model potential savings on resource in terms of both time and cost for a financial institution at various specified threshold levels.
If the number of low-quality alerts is reduced then fewer analysts will be needed to check these alerts and a high standard of alert review will be maintained.
Model exactly what these cost savings will be for your organisation at any threshold level you wish by entering your own costs into the Optimality Calculator and setting a suggested threshold level to view results immediately.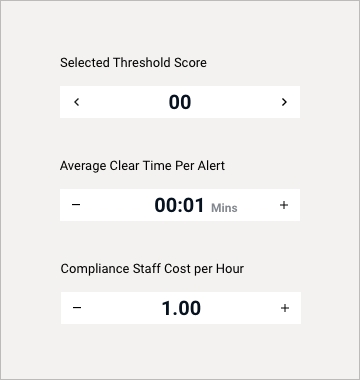 Cutting-edge RegTech and SupTech testing, validation and risk assessment solutions for financial institutions and regulatory authorities.